✨You've entered the giveaway! ✨
The giveaway closes on 31/12/21 and we'll announce the winner shortly after.
Here's your 10% discount code for taking part in our giveaway:
NKL10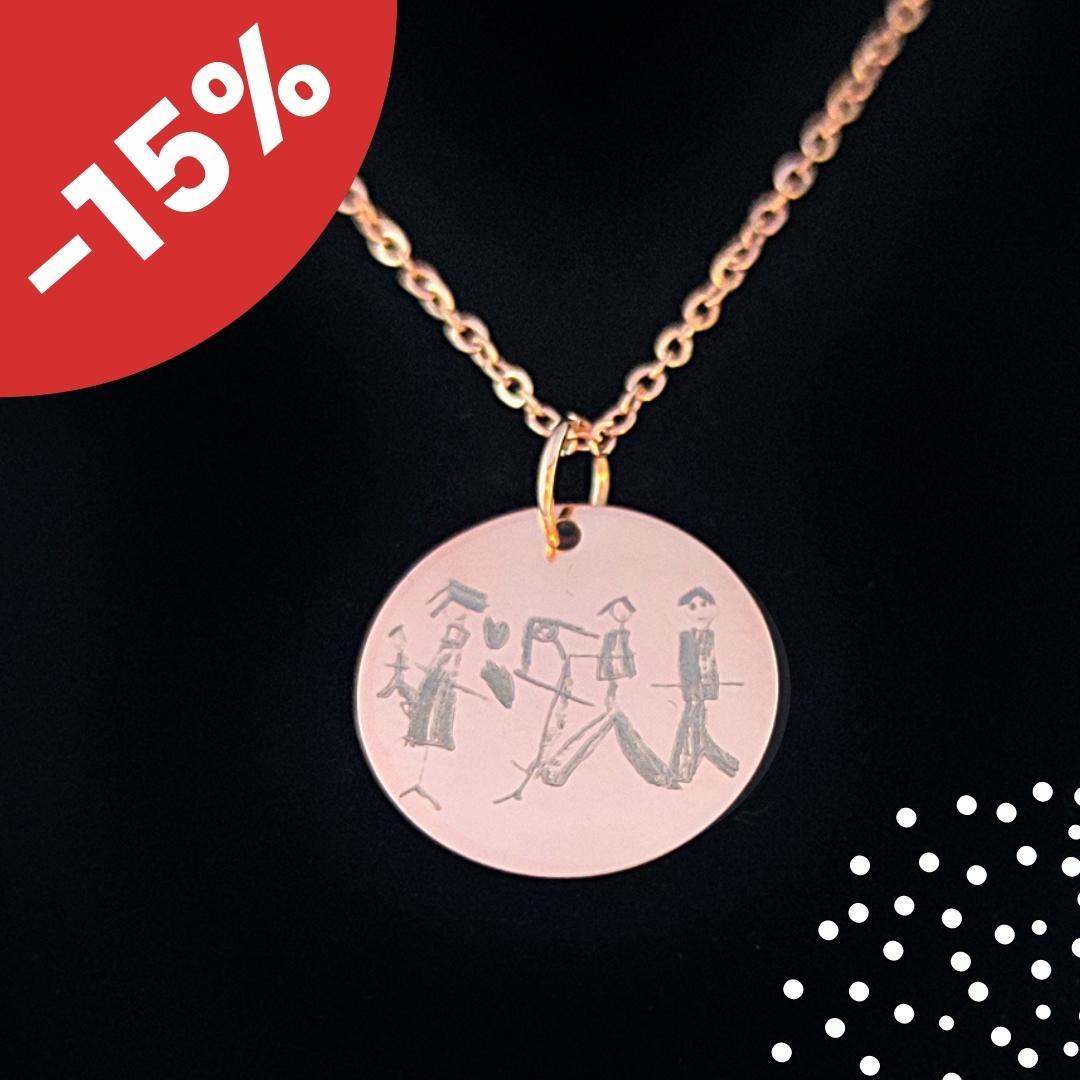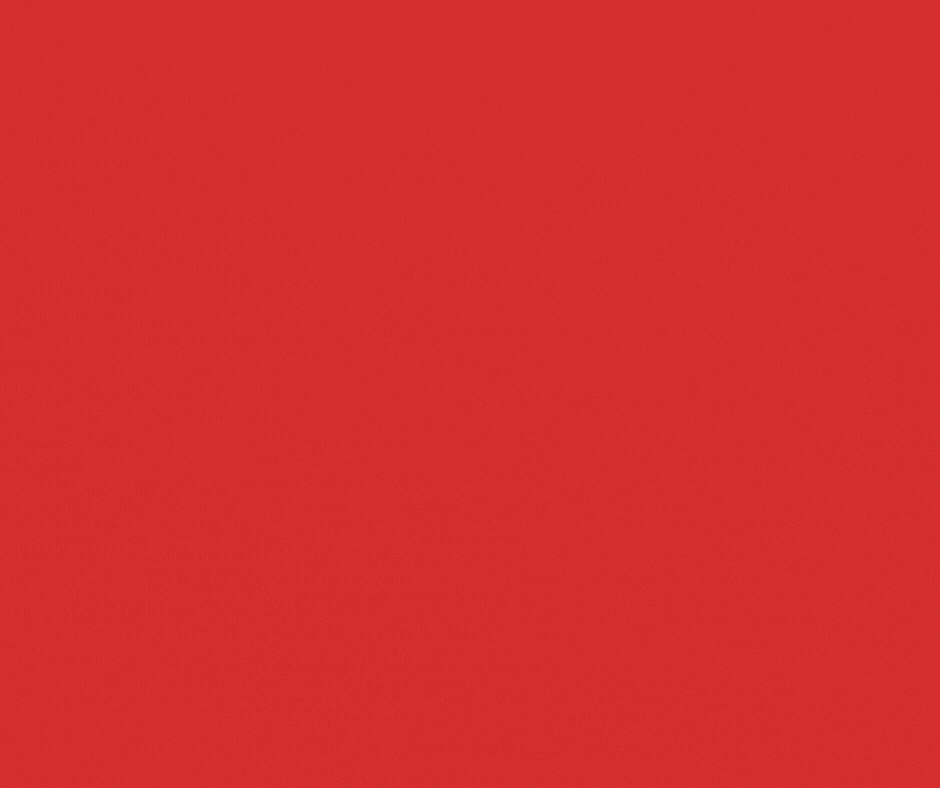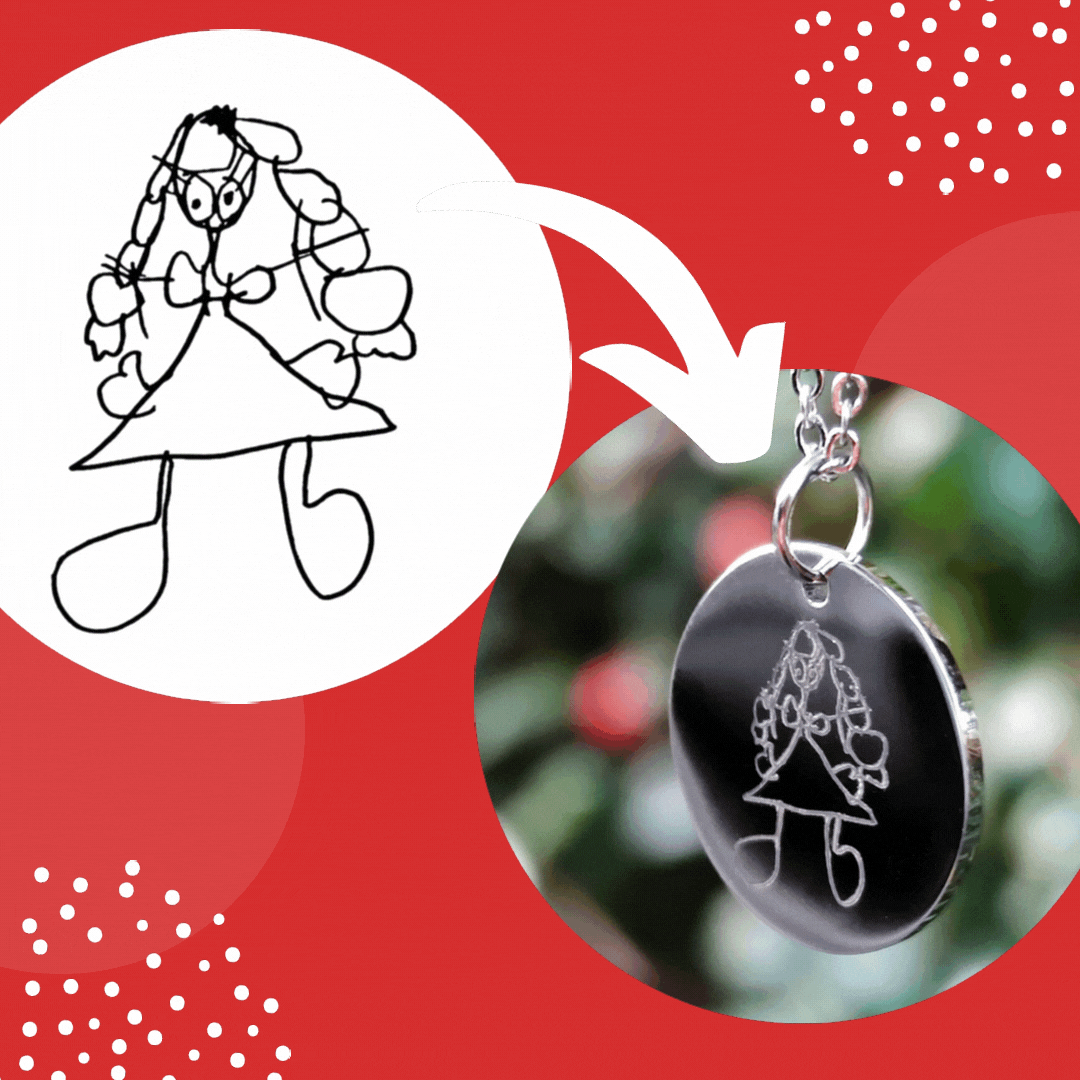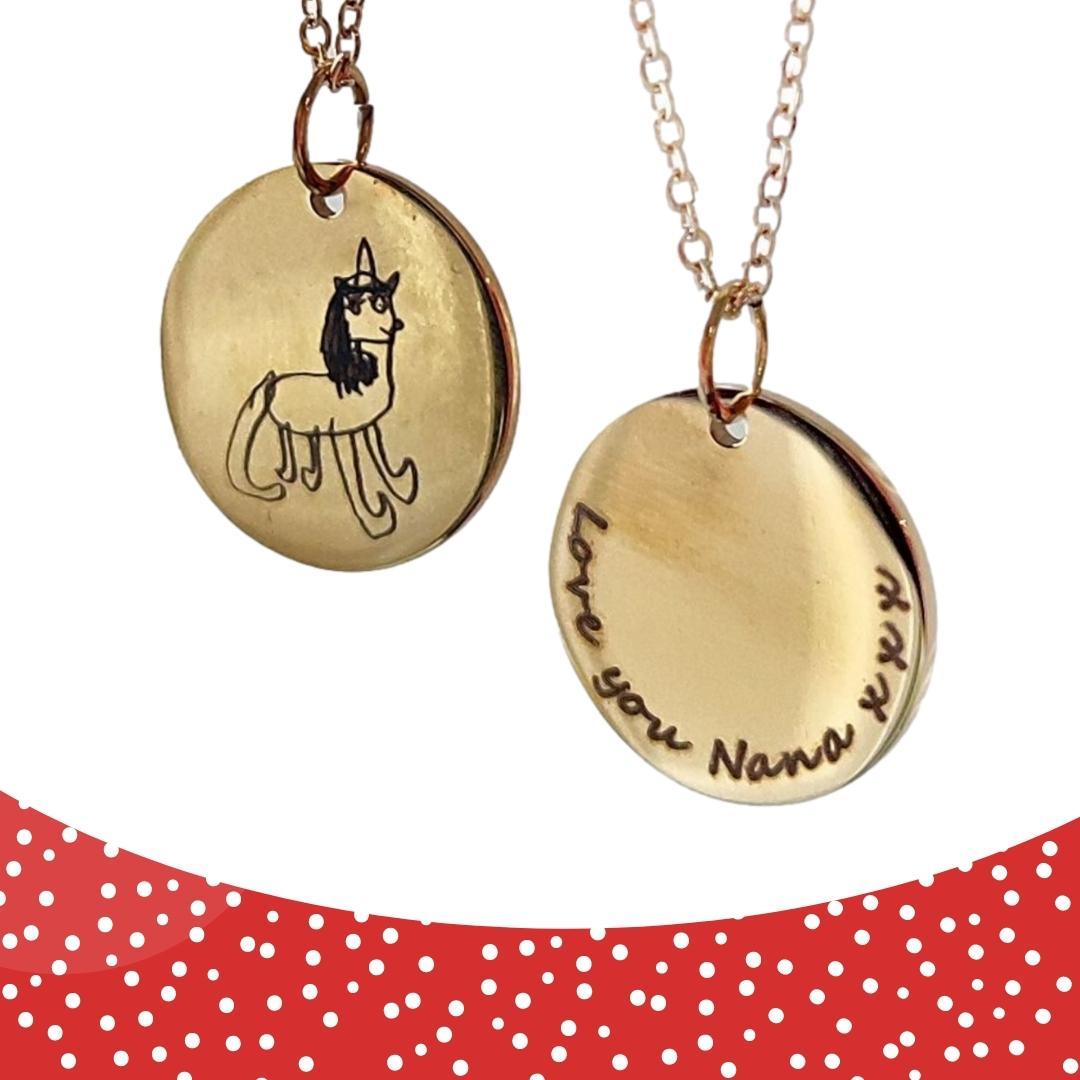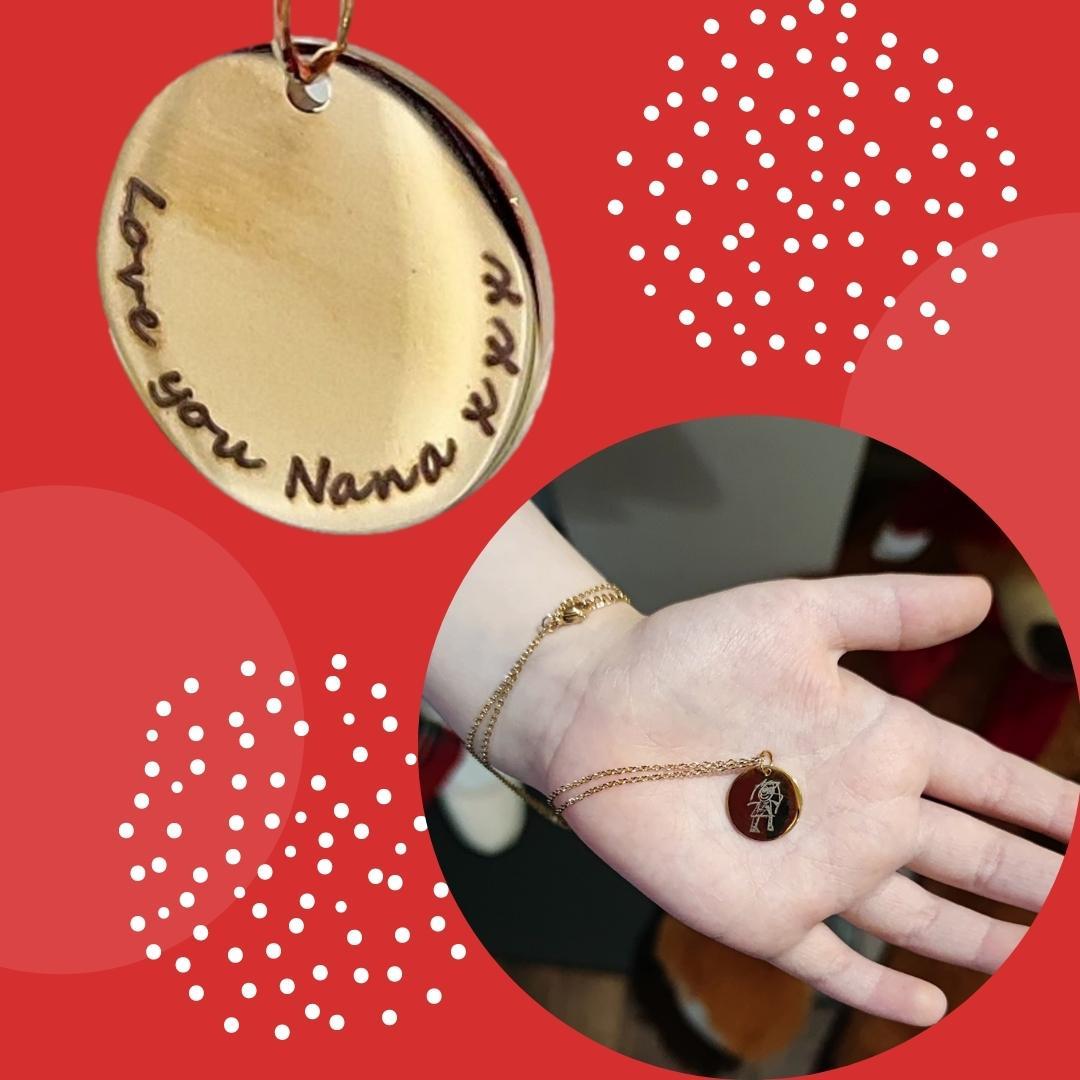 Child's Drawing Personalised Necklace
Celebrate your child's love, talent, and imagination. Preserve their drawings as a treasured keepsake with an original, engraved pendant necklace. A truly remarkable gift to treasure forever!
Thank you for supporting a small UK business 💝

Celebrate your child's love, talent, and imagination. Preserve their drawings as a treasured keepsake with an original, engraved pendant necklace. A truly remarkable gift to treasure forever!
How to order your personalised necklace?
Hint: It's simple! No editing, no troublesome uploads, no fuss!
1. Place your order. No need to upload a picture at this point!
2. Check your email for simple instructions on how to send your picture.
3. Our team will personally prepare your picture for the best engraving results. 
Your child's artwork vanishing into the abyss of your fridge door gallery, or worse, getting thrown out? 

We all know how important it is to encourage our kids to express themselves creatively. What if you could turn their art into a keepsake they can treasure for years to come?

A personalised necklace with your kid's own drawing on it! Show off their talent and keep them inspired. 
Please remember that this necklace is not a toy.
It's not easy to find the perfect gift.

Especially when you are looking for something extra special and meaningful. Something to show your love and genuine connection. This personalised necklace is a one-of-a-kind way to show someone how important and appreciated they are. A gift that truly will last forever.
"I feel loved by my granddaughter whenever I wear this necklace" - Alice

Frequently Asked Questions
When will my order be delivered?

We estimate 7 working days for dispatch, that's from when we receive and process your photo. Your order will then be dispatched by Royal Mail and delivered within the timeline specified at check out (either 1-3 working days for express delivery or 3-5 working days for standard delivery).

How long do I have to send my photo?

Choosing the right artwork can be a bit tricky so take as much time as you like! Don't worry, there isn't a deadline or expiry date for your order and we will send you reminders and tips on what will look best.

Where are the necklaces made and engraved?

The necklaces were designed in the UK and are made by a luxury jewellery manufacturer in China who has been audited to ensure it meets all ethical trading standards. The engraving is then performed by a family-run workshop in the Scottish Highlands. 

What are the necklaces made of?

Our necklaces are made of solid stainless steel. The gold and rose gold necklaces are gold plated using the PVD method, which is more durable than standard gold plating. 

What are the benefits of stainless steel jewellery?

Stainless steel is super durable. Its scratch-resistant qualities will help preserve your beautiful delicate engraving. What's more, stainless steel doesn't tarnish as easily as other jewellery metals, which makes it excellent for everyday use and not just for those few special occasions! Please note that although stainless steel is scratch-resistant, it might still get light scratches from use.

How should I look after my necklace?

To make sure your necklace is in top condition, you can treat it with olive oil (dab a soft cloth with a tiny bit of olive oil and rub your necklace gently). When not in use, make sure to store the necklace separately from other jewellery, ideally in a softly-lined box (just like the box you received it in!).

Do you offer gift wrapping?

Your necklace will arrive in a luxury gift box, inside a postal box that fits through the letterbox.

What's your return policy?

You can cancel your order before you submit your photo to us. Once your necklace has been engraved it is non-refundable. If you would like to talk to us about your order, simply email us at hello@joizi.com and we'll be happy to help!
Use left/right arrows to navigate the slideshow or swipe left/right if using a mobile device